DISCOVER. RANK. SHARE.
Coca-Cola currently has a companion app for their widely successful Freestyle vending machines. Our improvements to the app leverages current features and adds additional value by introducing new ways to discover, rank and share beverages in a fun and easy way.
Through testing and research, we found users pain points revolved around the pressure to have to think of a new mix. The app in it's current state has no present menu from which to choose from. On one hand this gives users the freedom to create whatever they want, on the other hand there is the burden of choice. Having to consider what and how to mix from 100+ offerings can be daunting. Our improvements to the app leverages current features and adds additional value by introducing new and easy ways to discover, rank and share beverages.
Goals
• help users discover, rank and share mixes
• smartphone and Apple watch compatible
• deliver solution in a 2 week timeline
• work within existing brand guidelines
Methodology
surveys, survey monkey, typeform, paper, social media polling, guerrilla interviews and conversations, contextual observation, competitive analysis, usability testing, paper and digital prototyping, A/B Testing
What I did
collaborated on solutions for Iphone + smartwatch through aglile work process, project management, user flows + journey, produced shared digital design assets, design + brand consultant, quality control of assets, usability testing, digital survey creation, process and test documentation, medium to high fidelity comps based off initial roughs, lead on translating mobile experience for smartwatch, optimizing solutions + features best suited for device platform and user needs, wireframing, digital prototyping, presentation deck, promotional video reel demo
Tools
Sketch, Marvel, Principle, Adobe Illustrator, After Effects
Process
Discovery + Research
Our research kicked off by first exploring what the current state of the app was. After reading about the Coca-Cola Freestyle app and what it's capabilities were, my partner and I created our own Freestyle accounts to try this app out in the wild.
We used a shared Pinterest board to share ideas when inspiration stuck, and looked at what discover, rank, and share could look like in the digital space. Exploring apps that had similar circular interfaces such as Taasky, and Apple music gave us some insight as to how we could evolve the Freestyle design. We also looked to more conventional menus options like Netflix, and unique ones like Highball, a popular cocktail app that utilizes and springy carousel menu and tabbed list view.
After doing our market research and noting what our personal pain points were with the app we needed to see what users had to say. We utilized the above methods to gain additional insight into what were some of the pain points surrounding the freestyle experience.
Competitive Analysis
We also did a competitive analysis with its direct competition, Pepsi Spire. Pepsi Spire lets you mix custom creations by adding custom shots of flavor similar to the Freestyle App.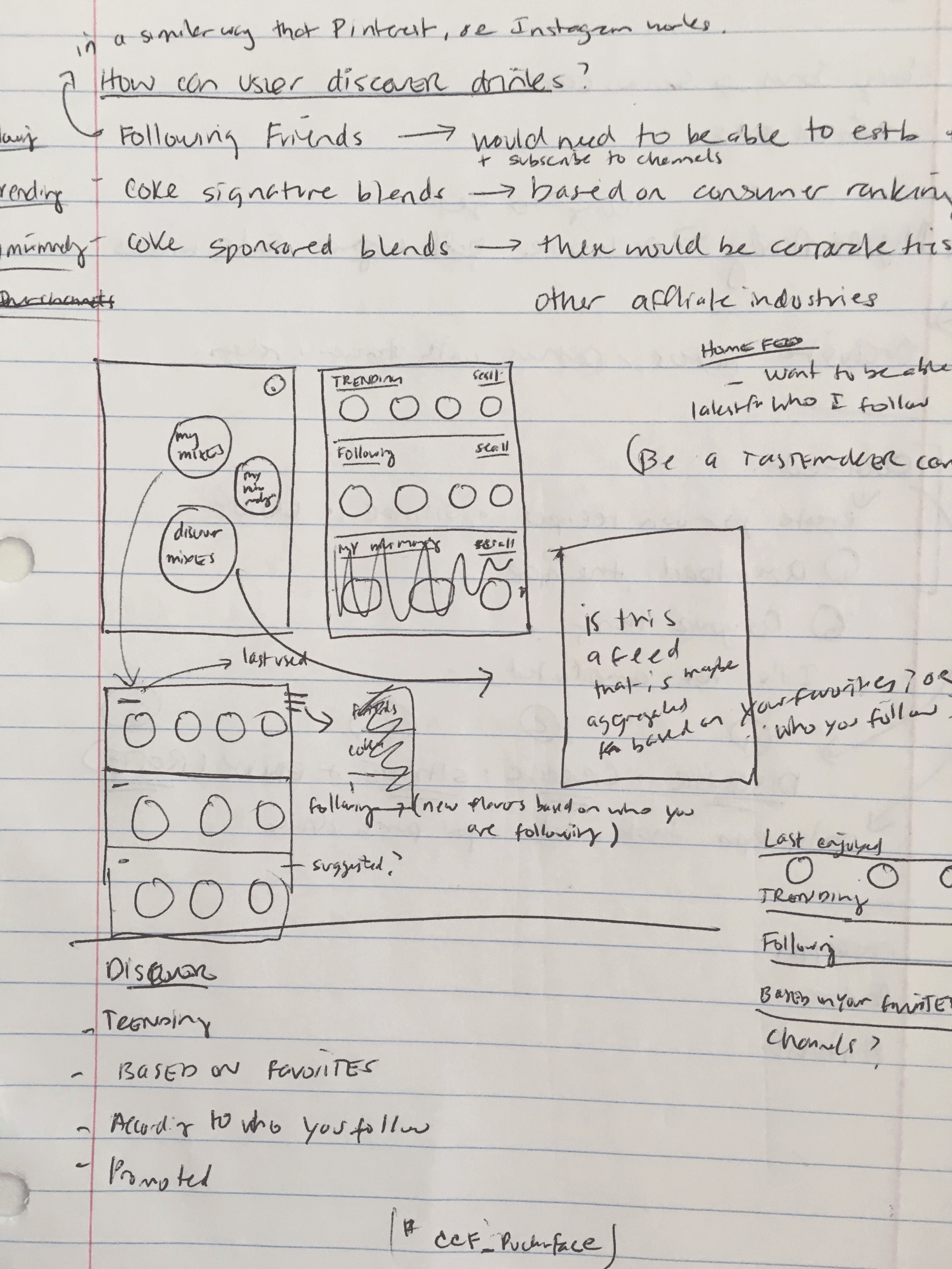 and then followed up with numerous sketches and white boarding sessions where my partner and I collaborated on several iterations for the evolved Freestyle app. We did a range from a very traditional list and carousel kind of view to more abstract and discoverable views that relied more on visuals and touch gestures.
Testing
From these options we tested a total of 4 different kinds of iterations, the first sessions were paper prototypes and the second were digital. We also had users test the current app in order to be able to do a side by side comparison of the old version vs our modified version.
Personas
Coke Freestyle users could potentially be anyone, we wanted to make sure that we reflected our user through the lens some of types we encountered.
The mobile app
The solution was to incorporate a preset menu based on What's Popular (derived from ranking) and what is Based On Their Favorites. Having these options in a carousel interface satisfied the needs of users that wanted a more familiar kind approach to discovering flavors. To satisfy our other group of users we built a "shake" function into the Iphone version, so at any given point, you are able to just shake the phone, and a new flavor is suggested to you. Having both of these paths offers reassurance as well as an element of surprise and delight for its users.
Mobile capabilities: Discover new flavors, Share via message, Shake discovery function, Rank, Customized flavor pool, Potential for app to learn flavor profiles over time.
The Smartwatch
During our development of the mobile app we needed to also take into account how interactions would take place on the smartwatch. What would that look like and how would it function? With such a small platform I needed to consult apple guidelines and familiarize myself with best practices for devices such as the smartwatch.
The smartwatch design focuses on optimizing the look and feel of the mobile app, on the smartwatch platform. Considering the size and the amount the device would potentially need to process we made sure to incorporate nimble, intuitive gestures familiar to smartwatch users. Images are used only where necessary to guide the users actions. Relying on subtle visual indicators for instance the use of color on navigation, circular buttons, and list style scrolling allows users to rapidly retrieve information on their watch.
Smartwatch capabilities: Retrieve messages, Rank, Geolocate, Scan mixes directly onto the Freestyle machine.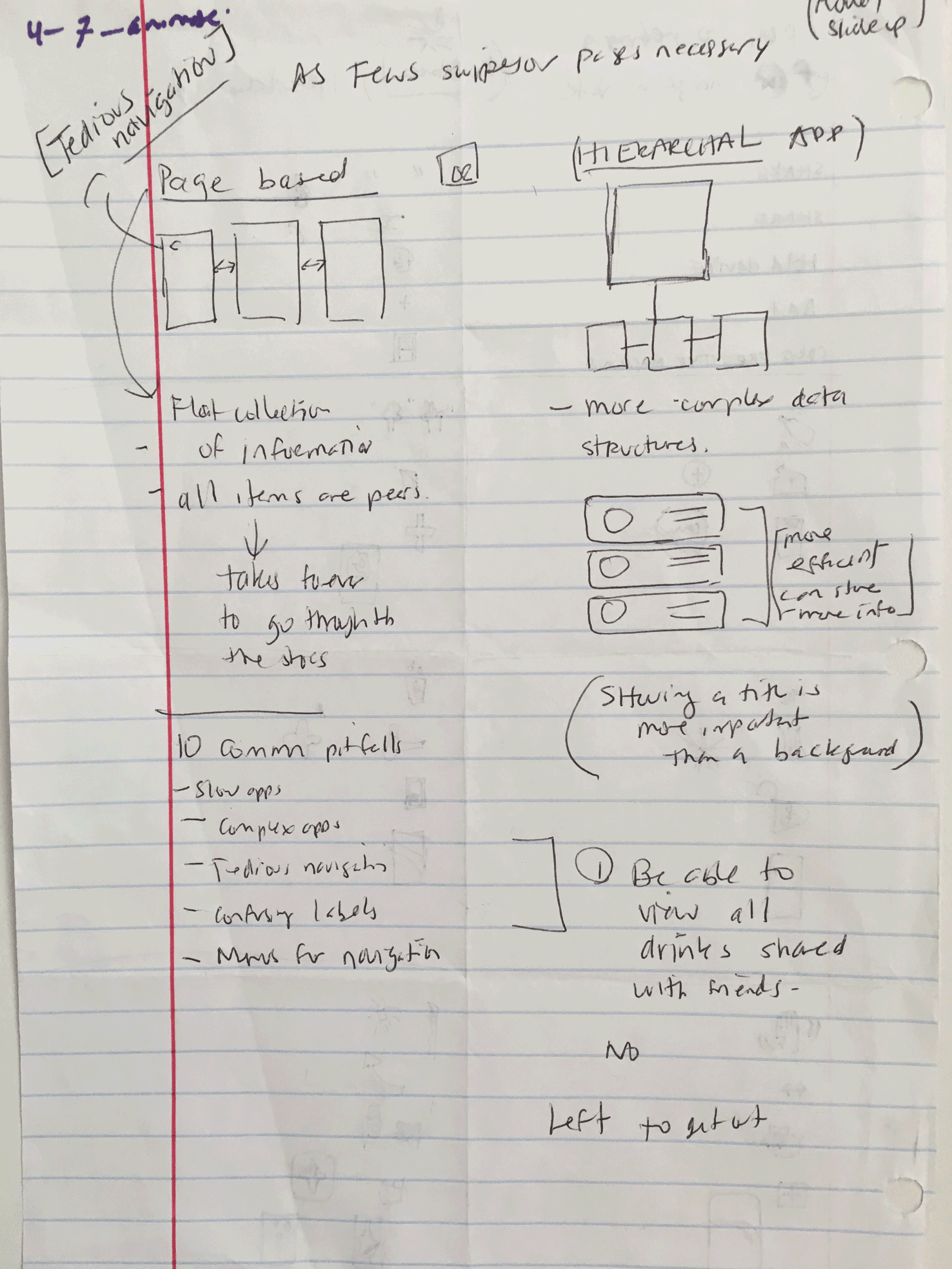 Mobile App and Smartwatch Integration
Mobile app + smartwatch userflow